SOCIAL & ENVIRONMENTAL POLICY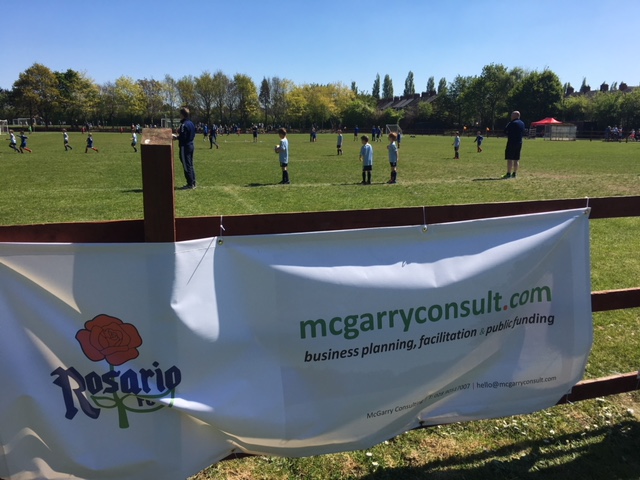 Supporting local communities
Help Clubs with Outreach & Events
We try to help causes, individuals and organisations that inspire us. People who make this world a little bit brighter, more interesting or challenge the status quo and stand up for others. We aim to give 7% of our net profits and over 200 hours volunteering each year.
Some of the organisations we've supported recently include: Concern; Girls Gotta Run, Ethiopia; Little Stars School, India; Livelihood Project: Empower Women in Ghana; Tiny Life; Trees for the Future and Wikipedia.
We've coached and/or been on committees for 25 years, so we practice what we preach. In 2017, Liam McGarry, founder of McGarry Consulting, was nominated for Sport NI Community Coach of the Year, having been Athletics NI Volunteer of the Year. Previously, Liam was Chair of Bredagh GAC, co-founded Belfast Running Club, founded Belfast Falcons, helped set-up Jog Belfast and on the Management Committee of Rosario YFC (the largest amateur football club in NI). He was also on the Games Organising Committee of the 2003 Special Olympics World Summer Games and the 2006 Special Olympic Ireland National Games; and was a mentor with Young Enterprise NI.
ENVIRONMENTAL POLICY
Louis Armstrong had it right, what a beautiful world. We're keen to keep it that way and welcome any advice people can give us. For our part, we strive by five simple steps:
supporting local environment
McGarry Consulting sponsored land within Belvoir Forest through the Woodland Trust
1. Lead by example. Use common-sense to reduce, recycle and re-use where you can; and prioritise environmentally friendly and/or ethically sourced goods where you can.
2. Go paperless. We don't print documents. We encourage technology and recycled paper where required.
3. Use technology. Skype and similar services can greatly reduce the need for travel and low value meetings. Free services like Google Drive, Doodle, Dropbox, Sli.do etc can make sharing documents, arranging meetings, and answering questions much more efficient.
4. Be pro-active. Learn from others, work with partners and try to promote adoption of more environmentally friendly practices.
5. Plant trees. We want a positive legacy, and the most effective and enjoyable way for us to do that was to plant trees. We've sponsored parts of our local forest and plant 100 trees through Trees for the Future for every new project we get.